Female incontinence or loss of bladder or bowel control, is the involuntary release of urine during any physical activity which puts pressure on the bladder. The common causes include heavyweight lifting, smoking, lung disease, poor nutrition, constipation, caffeinated beverages, urinary tract infections, menopause and hormonal changes, pregnancy, obesity, pelvic surgery, and neurological disorders.
Due to the stigma attached to it, female incontinence is highly under-reported, under-diagnosed and under-treated condition. However, it can be modified and managed with the right products, treatment and lifestyle changes. For instance,
women can time their visit to the bathroom in a scheduled/routine manner,

practice Kegel exercises to strengthen pelvic muscles,

food and beverages which are bladder irritants should be eliminated from the diet,

medications which are bladder irritants should be avoided as far as possible,

surgery. This must be considered carefully as it comes with risks and potential complications. This includes injectable therapy, tension-free vaginal tape, vaginal sling, anterior vaginal repair, retropubic suspension.
Some of the products include, pantiliners, bladder control pads, male guards, special under wears, under pads and disposable wash cloths. Once managed correctly, women experiencing incontinence can continue leading their routine active life.
Created using the seamless knit pant technology, Maternity Knit Pants provide increased comfort and discretion compared to the traditional mesh pants. Washable and re-usable up to 50 times, the Wings knit pants are available in both Incontinence and Maternity styles. They have been designed for use with insert pads, maternity pads and peri-pads. Its increased elastic strength allows the garment to fit a wide range of body types.
When used for maternity care, they comfortably fit new mothers' bodies. The following features give it underwear-like look and feel.
These are discreet pads designed for light bladder leakage protection. Individually wrapped and available in different sizes and absorbencies, they are reliable protection women can trust. Women using Prevail Bladder Control pads can continue living an active lifestyle even with bladder incontinence. It is available in different absorbencies – very light, light, moderate, maximum, and ultimate.
Some of their unique features which combine leakage protection with skin-friendly softness and comfort include:
Specifically designed for women who need moderate to heavy leakage protection, Prevail PurseReady is a pretty lavender protective underwear. While it has the look, and feel of a regular underwear, it keeps the user 5 times drier when compared to any other similar product. Individually wrapped for the user's convenience, it is available in different waist sizes and pack sizes.
Combining leakage protection with skin-friendly softness and comfort, it has the same features as the above mentioned Prevail Bladder Control Pads. They too use the Prevail technology which includes, Skin Smart fabric, Odor guard technology, 360 degrees breathable zones, Quick Wick layer with MaxSoft technology, thin absorbent cores, back label, and cloth like outer fabric.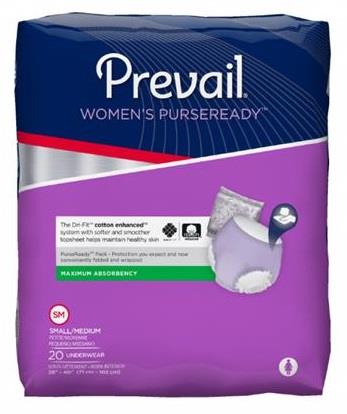 Specially designed to protect against light bladder leakage, these ultra-thin pads are ideal for day to day use. Women experiencing leakage from coughing, sneezing, laughing and various physical activities, can vouch for this product. They draw in liquid rapidly and lock moisture deep in the pad making the user feel dry and fresh. A unique top sheet with 3D technology draws moisture away from the skin, keeping it dry, breathable and healthy. TENA Intimates Pad's ProSkin technology keeps the skin soft and healthy. Since, it is incredibly thin, it is very convenient to wear. Adaptable to the body movement and natural body contours, it is a comfortable fit. The advanced pH-balanced odor protection fights odor and gives a feel of freshness to the user .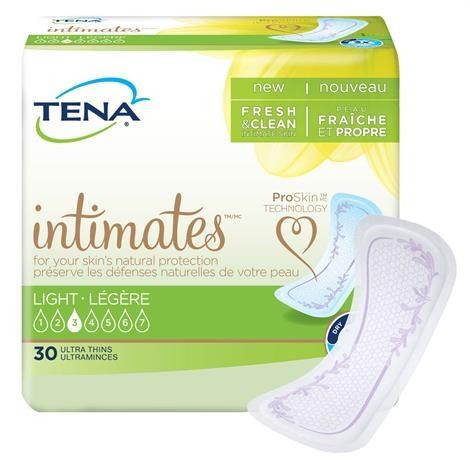 Thus, every woman using these products can easily manage incontinence and carry on with her active, on-the-go life with comfort, dignity and optimal skin health. The choice of product can be made depending upon the level of leakage. This coupled with certain best practices will enable the user follow her routine of daily life.